A week in Biarritz was far from being enough but it is already time to jump back on the train to Paris! I took advantage of this week filled with beach and sand to enjoy my favorite items of the summer. I hope they will be just as useful to you as to me.
Vanessa Bruno is a brand that I hold close to my heart for years. When they realease their new raffia tote bag, I couldn't resist. The combination of the iconic bag with raffia was all I ever wanted. Moreover, it is super convinient to go to the beach.
A few weeks ago, I still did not understand this fascination around these famous futas. However, I can finally tell you that I have also succomb. Super easy to slip into the bag, your futa will dry you effectively. Bye-Bye the big and heavy beach towels.
Rihanna found something to enlighten our summer. Thanks to Fenty beauty, you will shine more than ever. What's better than this oil created by the singer? It will add to your tan the glowy touch it was missing. So, are you ready to blow them all?
Well, of course I do not repeat that sunscreen is your best friend whatever the season, but even more in summer. Once our skin is well protected, we must not forget to take care of our eyes. I bought a pair of Quay Australia glasses specifically for this trip. Indeed, I thought that it would be a little stupid to lose or damage my Celine sunglasses at the beach. So I opted for an affordable and effective option. I had a huge crush on this model and I want to say that I am far from regret this purchase.
If you also plan to go to Biarritz, "la maison de l'espadrille" is a must. Located on Rue Mazagran, you will know how to find your shoe. Their carefully selected products are of excellent quality.

I hope you are enjoying your last weeks of summer, because for me, it's already back to school time.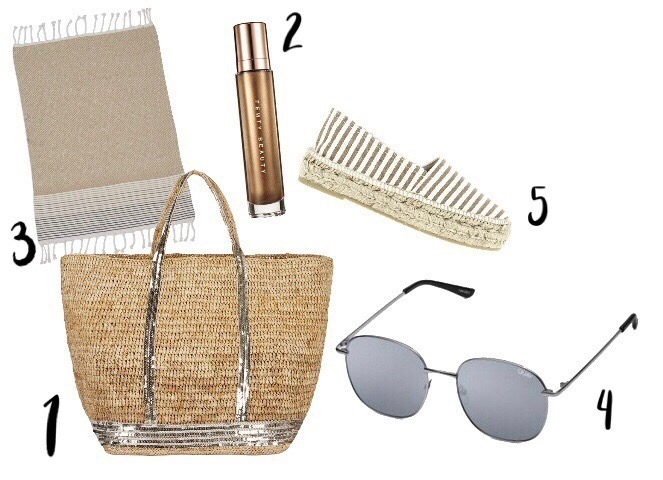 Different options…

xx,
Victoria Alvina